LIMITED TIME OFFER: Includes Exclusive Bonuses!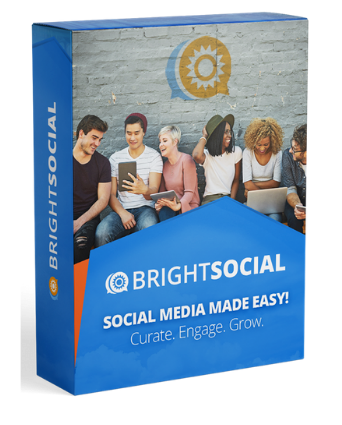 ⚠️ Unlock The Ultimate Social Media Strategy, Software & THOUSANDS in bonuses for just a fraction of the future price...
✓
Done-for-you templates and tools that allow you to easily create professionally designed high converting social media content for multiple clients in just 6 Clicks!
✓
Save Time With Automatic Syndication For Your Business!
✓
Includes 6 Months Of Done-For-You Daily Content For Your Own Digital Marketing Agency!
✓
Detailed Automated Enterprise Level Reporting!
✓ Generate Leads 24/7 With A Customizable Lead Capture System!

✓ Enterprise Social Media Marketing Platform For 50 Social Profiles!
Think social media marketing services are dead in 2022?
➡️ Think again!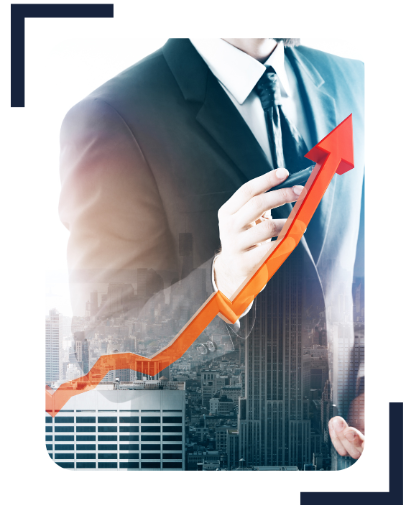 Take a look below to see for yourself the opportunity that businesses without a consistent social media pretense are missing out on:

📊 48% of the WORLD'S population (3.5 BILLION) is on social media!

📊 71% of customers that have a good experience on social media with a business are likely to recommend it to others.

📊 As you read this page over 10 million people used Facebook!

📊 More than 54% of people use social media to research products and businesses!

📊 Adults are using social 95 minutes per day!
So, If Social Media Is So Great, Then Why Do Some Business Not Have An Effective Strategy In Place?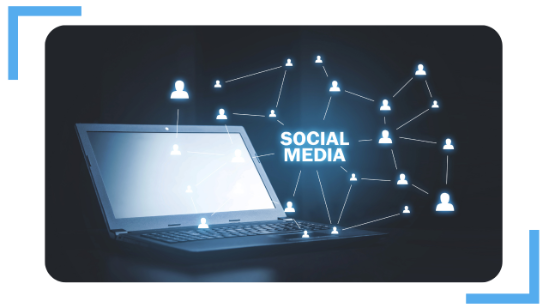 Here's the truth...



❌ They use strategies that don't work

❌ They can't find the time to do it consistently

❌ They have a false expectation of results
Many businesses fall prey to the same false belief and ultimately give up
But what if you could show them a proven social media strategy they've never seen before...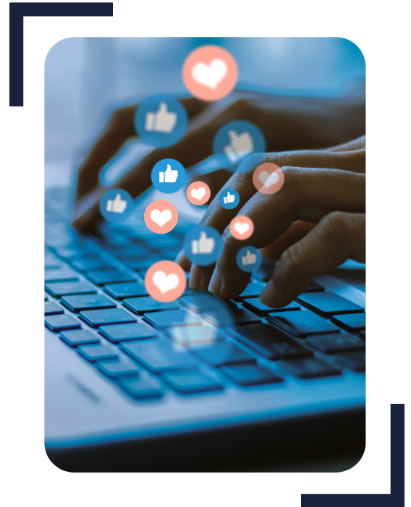 A proven strategy that works for

✅ ANY business

✅ ANY niche

✅ AND is not bound by geography

A strategy that we've been using and perfecting for years backed by thousands of hours of testing and results...

That will make YOU look like a social media rock star as you help businesses get on the fast track to reaching their target market!
Let Me Introduce You To Our Social Media RECIPE Strategy!
⚠️ WARNING ⚠️
What you're about to see has NEVER been revealed publicly and is proprietary content that may not be used without a license!
The Social Media RECIPE creates the perfect mix to get maximum visibility on social media. Finally create high engaging content that your clients customers will love, comment on, and share with their friends!

But Is The RECIPE enough?
❌ You'll Also Need To Find A Content Generator




❌ Time To Schedule/Syndicate Each Post




❌ Software To Manage Each Account


❌ And Tons Of Duct Tape To Make It All Work Together 🤦‍♂️
While our proprietary RECIPE is something unique in the industry and has been proven through thousands of customers....

There's still more to be done and that's why we didn't stop there and spent years and hundreds of thousands of dollars eliminating everything that makes running a social agency hard.

Let me introduce you to...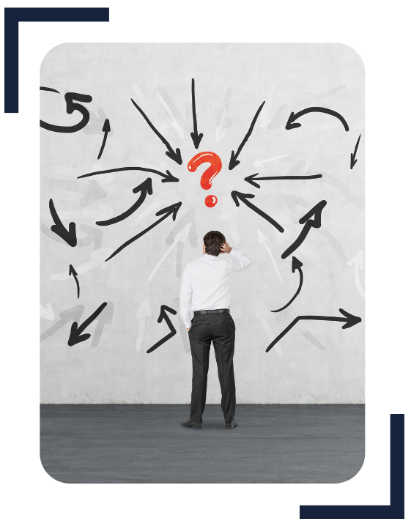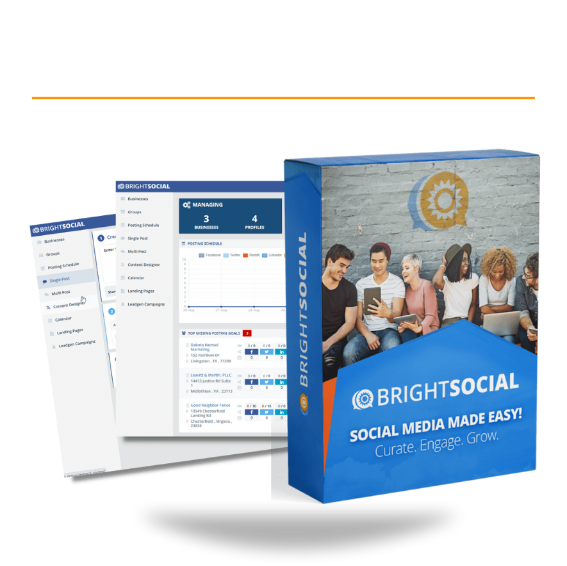 Get Started Today For Only $99/

MO

How Bright Social can help grow your business FAST!
Bright Social is a revolutionary, enterprise social media marketing software that empowers agencies with the ability to leverage one of the most lucrative services on the market that every business needs, at push-button speed!

With just a few simple clicks, you can easily create & syndicate professionally designed high converting social media content for multiple clients with no learning curve needed.

Deliver results for your clients like never before!
PLUS... Unlock The VIP Social Booster Package Which Includes...
A $1000 Worth Of NEW Done-For You Agency Resources EVERY MONTH!
[$1,000/mo VALUE]
Each month, our team of professionals will handle the heavy lifting for your Social Agency's content and will deliver NEW done-for-you resources delivered to your inbox that will give you everything you need to accelerate your Bright Social success & get your time back with:

✓ 2 Part Done-For-You Client Prospecting Sequence to reach more prospects than before!

✓ 1 NEW 250+ word Agency Blog Post each month to help position yourself as the social media expert that focuses on important topics such as: why you need effective social media marketing now more than ever & MORE!

✓ 7 NEW Agency Social Media Posts to stay top of mind with!

✓ 1 NEW Social Cover Set each month that's professionally designed to wow customers and prospects!

✓ 1 NEW Social Agency Ad Set that's done-for-you to help expand your marketing efforts!

✓ + Instant Access To The Power Pack Vault That Contains Hundreds Of Additional Resources!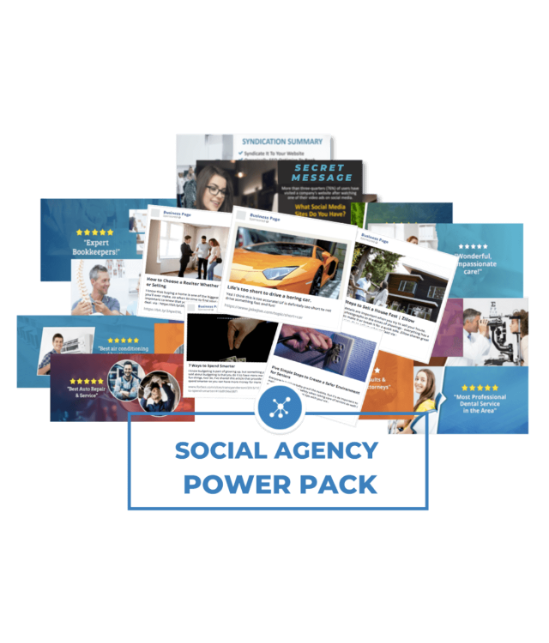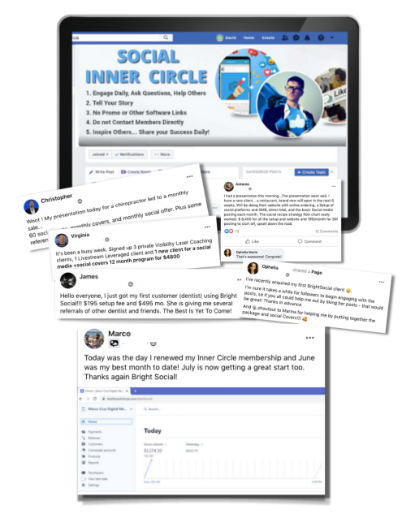 Complementary Access To Our Private Social Facebook Community!
[$830 VALUE]
Connect with Marketing leaders in some of the most profitable, fastest-growing services in online marketing and discover the help to take your Social Media Marketing Agency to the next level with access to:

✓ Exclusive insider training materials & special offers!
✓ Unlocked access to the Inner Circle Downloadable Archives!
✓ Real time feedback and insights from peers and experts to help grow your Social Media Marketing Agency!
LIVE Bright Social Booster Workshop EVERY WEEK!
[$6,000 VALUE]
Leave the guessing behind and join our social media expert EVERY Week for an exclusive LIVE training that will give you a front row seat to:

✓ The latest exclusive sales / marketing strategies that can help you generate new revenue!

✓ The exact first steps you must take to quickly get on the path to closing your first client using Bright Social!

✓ Bright Social Insights on advanced strategies not available to the public!

✓ LIVE Ask Me Anything Q&A ... Get Your Toughest Questions Answered!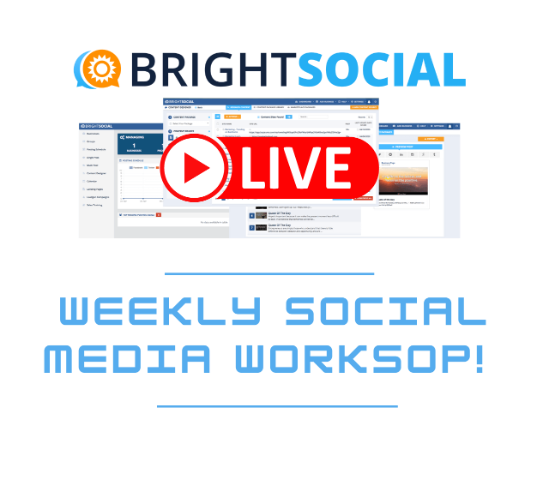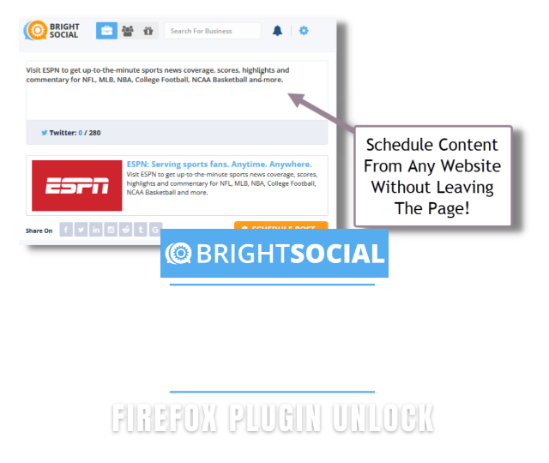 The Power To Curate Social Content From Anywhere In One Click! [$200 VALUE]
✓ Grab content from anywhere with a click of the mouse. Instantly grab any page from FireFox with a build in curation plugin!
✓ Curate content into the packs, clients, and schedules you want without ever leaving the page. Finding and organizing new content has simply never been easier.
✓ Don't waste time with spreadsheets or complicated systems to organize your content. grab, save, and schedule your content in moments!
And Get An Additional $13,000 In Bonuses To Unlock Everything You Need To Prospect & Sell Clients!
Social Media Agency In A Box!
Master your prospecting with exclusive resources & proven step-by-step guides that will help you simplify your sales process & quickly get on the path to success with:
✓ Step-By-Step Process Sales Method
✓ Agency Contract Templates
✓ High Converting Email Campaigns
✓ Slide Decks And Presentation Notes
✓ Live Presentations SCRIPTS & Transcripts
✓ Social Media Sales Case Studies
✓ Free Offer Strategies
✓ Residual Offer Strategies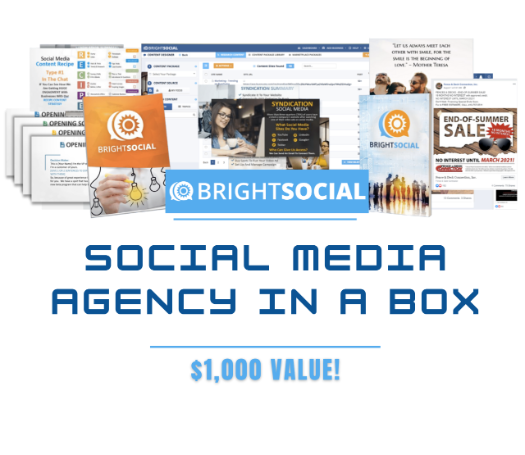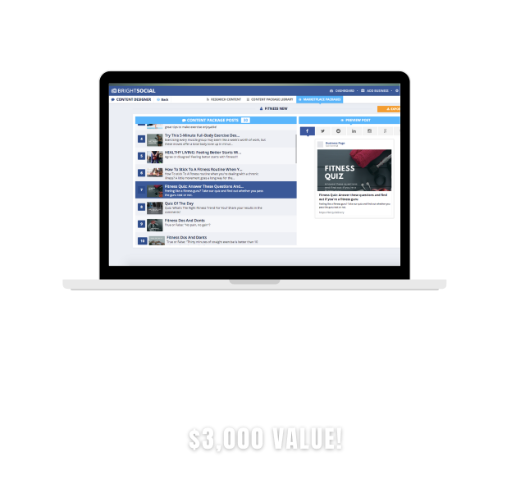 10 INDUSTRY"DONE FOR YOU"
90 Day RECIPE Content Packages
Get on the path to easily finding Leads In 10 highly lucrative niches with these done for you social content packs that follow our proprietary RECIPE formula that you can put to work right away!
✓

Ability To Make $300 - $500 Per Month
✓

The

10 MOST LUCRATIVE NICHES
✓

EXCLUSIVE

CONTENT RECIPE STRATEGY
✓

100% Custom Image Content
Unlock Social Offers: Coupon & Redemption Software!
Get ready to throw rocket fuel on your social media & light it up so that every social post can generate leads 24/7! Giving you another incredible service to provide for your clients!
✓

Make $1,000+ Per Sale (We show you how)



✓

The Power To Easily Create A Social Offer Each Month



✓

Turn Every Post Into A Lead Capture



✓

Unlocked Coupon Redemption System
✓

Includes 10 DFY Social Offer Campaigns
✓

+ Unlock 10 DFY OFFER FUNNELS
✓

In 10 Of THE MOST LUCRATIVE NICHES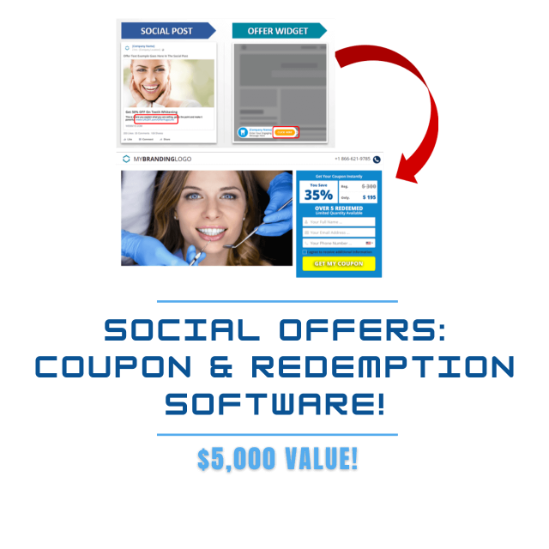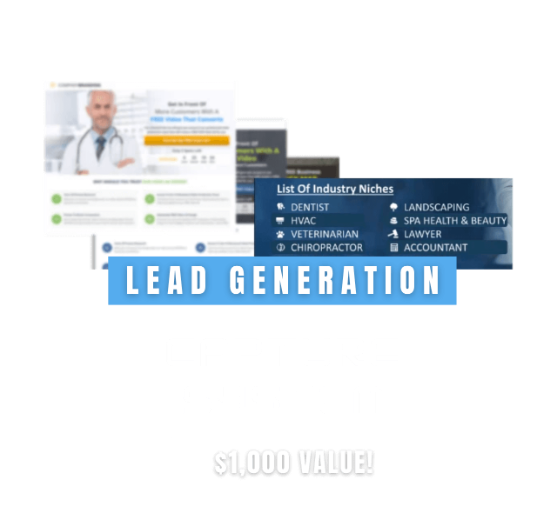 Lead Capture: Marketing Offer System
Generate leads 24/7 by unlocking Bright Social's exclusive lead capture system & 10 professionally designed done-for-you Lead Capture Pages for lucrative niches!
✓
Market Your FREE Offer 24/7
✓ Focus On A 1 or Multiple Niches
✓ Create Unlimited Landing Pages
✓ Built In Tracking Analytics
✓ Built In Lead Capture System
✓ PLUS 10 DONE FOR LEAD FUNNELS
6 Months Of DAILY Done-For-You Content For Your Own Digital Marketing Agency + Coaching
Stop worrying about what to post and get ready to let your expertise shine with agency social posts that feature compelling images, are professionally designed and built for customer engagement!
Bonus Includes...
✓
180 Done For You Social Media Post Package
✓
Done For You Agency SOCIAL OFFER Campaign
✓
Display Ad / Retargeting Traffic Course
✓
Facebook Traffic Ad Course
✓
52 Weeks Of Live Coaching Every Friday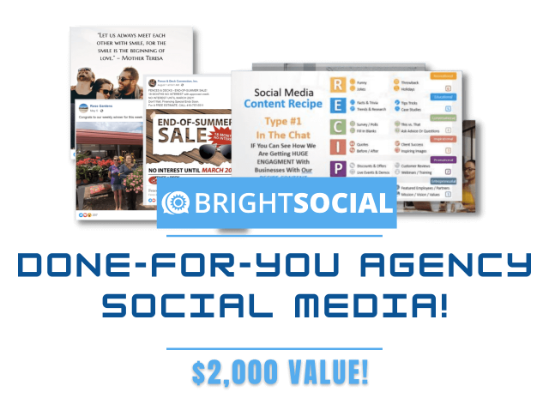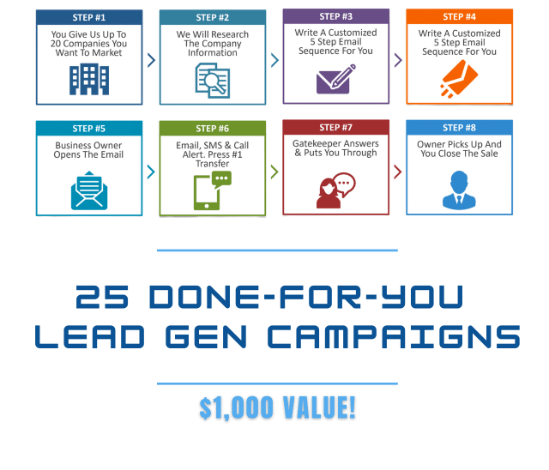 DFY Marketing: 25 Lead Gen Campaigns!
Bonus Includes...
We want to give you the attention you deserve in growing your local marketing business. And there's not a better way to jumpstart your Bright Social journey than by utilizing our done-for-you Lead Gen Campaigns!
✓

The Fastest Way To Jumpstart Your Outbound Marketing
✓

Includes Done-For-You 5 Step Email Sequence
✓

Can Help You Get Past The Gate-Keeper & Generate Revenue
Will You Be The Next Bright Social Success Story?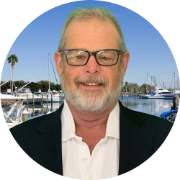 Jeff F.
"I have scheduled 4 months of social postings for 3 companies through the end of Feb in 2 days (including learning curve)! To quantify that - it represents future billing of just over $12,000, which means earning-wait for it- $750 an hour!

Social media has gone from loss leader to profit center!"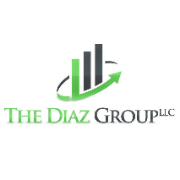 Paul D.
"I am up to $1200.00 in monthly residual income with the three customers!"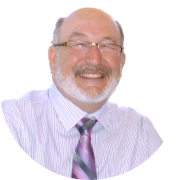 Randy V.
"Recently, I signed up three dental clients and they are all extremely pleased with the fact that they can distribute high-quality content to their patients.
In the past month for one dentist, we had 932 people reached with 349 post engagements.
These are insane numbers."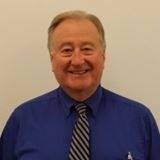 Mike M.
"A lead contacted me from one of my Bright Social posts. We had a conversation about what he was trying to achieve. We closed on A $1250/month for 6 months."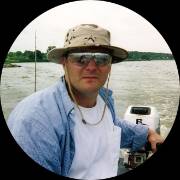 John J.
"I just joined Bright Social. I posted in a niche group about giving away social media content and Wow I have over 16 doctors to get back to.

This could be a very good tool for our business."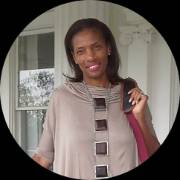 Roz C.
"Last week in a "free consultation call" with a client, I mentioned that I could also curate content for them. With no hesitation, they said yes to Bright Social. (here's the rub, I haven't even set up my Bright Social account fully yet). #thatwaseasy"
Help Small Business Owners Solve Their Social Media Problem With...​​​​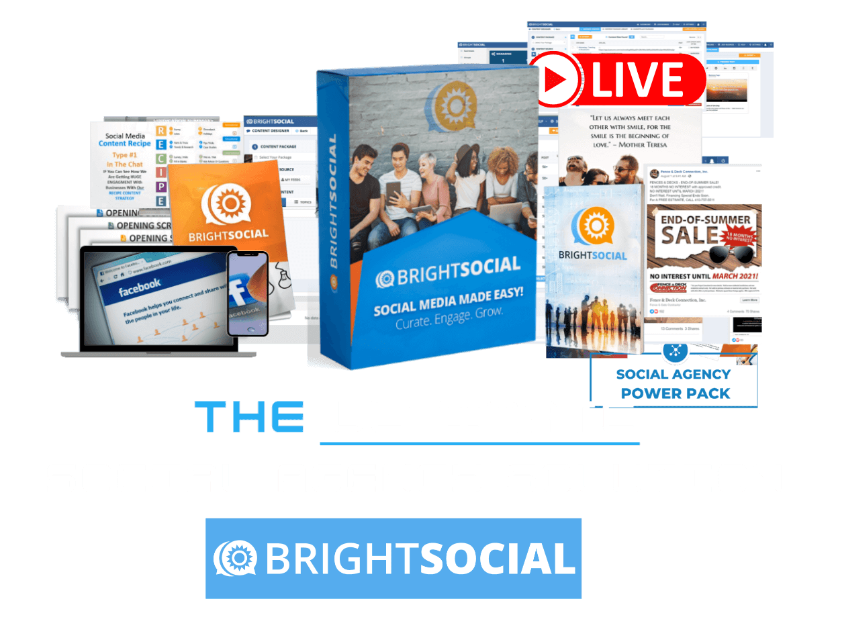 + Get An $13,000 In Additional BONUSES FOR THIS LIMITED RELEASE:
VIP Social Booster Package: UNLOCKED... $8,000+
Bonus #1
SOCIAL MEDIA AGENCY
MARKETING In A Box... $1,000
Bonus #2 10 "Done For You" Content R.E.C.I.P.E Packages... $3,000

Bonus #3 FREE Social Offers Coupon & Redemption (499mo)... $5,000

Bonus #4 Lead Capture Marketing System: 10 DFY Niches... $1,000

Bonus #5 6 Months Of DFY Agency Social Media + Coaching... $2,000
Bonus #6 DFY Marketing: 25 Lead Gen Campaigns!... $1,000
⚠️ Unlock The Ultimate Social Media Strategy, Software & THOUSANDS in bonuses for just a fraction of the future price...
Get Started For Just $99/mo

Strategic Marketer can not and does not make any guarantees about your ability to get results or earn any money with our ideas, information, tools, or strategies.
Nothing on this page, any of our websites, or any of our content or curriculum is a promise or guarantee of results or future earnings, and we do not offer any legal, medical, tax or other professional advice. Any financial numbers referenced here, or on any of our sites, are illustrative of concepts only and should not be considered average earnings, exact earnings, or promises for actual or future performance. Use caution and always consult your accountant, lawyer or professional advisor before acting on this or any information related to a lifestyle change or your business or finances. You alone are responsible and accountable for your decisions, actions and results in life, and by your registration here you agree not to attempt to hold us liable for your decisions, actions or results, at any time, under any circumstance.
This site is not a part of the Facebook website or Facebook Inc. Additionally, This site is NOT endorsed by Facebook in any way. FACEBOOK is a trademark of FACEBOOK, Inc.