View below to see how you can 'spy' on websites & social media to determine the perfect prospects!
LIMITED TIME OFFER
Get Instant Access To SociSPY!
YES! I Want To Get Started With SociSPY Now!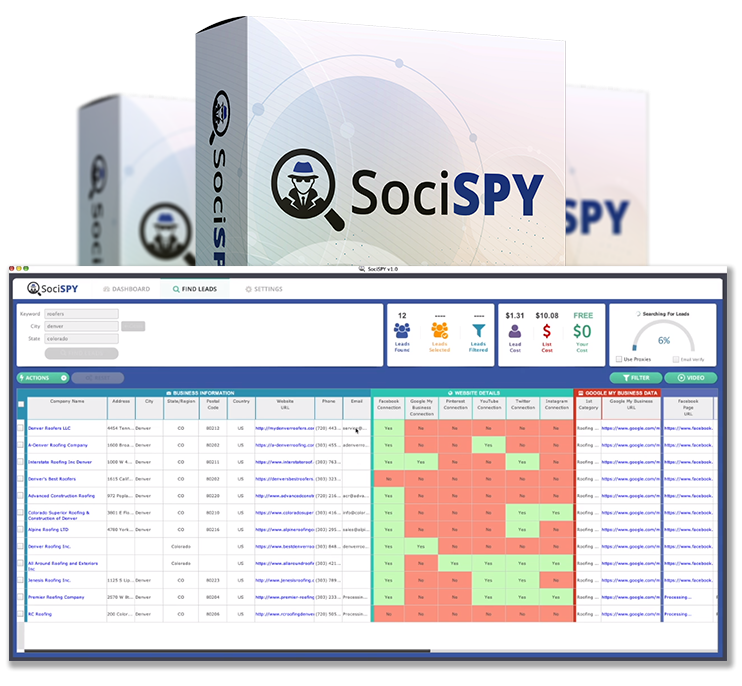 With SociSPY, You Will Discover...
A powerful proprietary algorithm that identifies the PERFECT LEAD for your social media service offer and makes closing deals—an absolute breeze. The time and money you will save by using SociSpy is... unbelievable!
​✓ It identifies a SPECIFIC BEHAVIOR by certain businesses that makes them exceptional candidates for your social media service!
✓

Normal everyday marketers do not have access to this data. It would be too costly and too time-consuming.
✓

Can turn 20% or 25% closing rates into...80% or 90% closes!

✓ Most powerful data yet, including VERIFIED Emails! No more wasting time with phony email addresses.
✓

Reveals if individual social media profiles are connected to a prospect's website exposing even more opportunities.
✓

"HOT LEADS Scores" show you the best prospects at a glance.
✓

Displays real world lead cost compared to your cost, which is FREE!
✓

Easily sort the data to your specific targets and export files

✓ With SociSpy your lead cost drops to ZERO!
YES! I Want To Get Started With SociSPY Now!

Strategic Marketer can not and does not make any guarantees about your ability to get results or earn any money with our ideas, information, tools, or strategies.
Nothing on this page, any of our websites, or any of our content or curriculum is a promise or guarantee of results or future earnings, and we do not offer any legal, medical, tax or other professional advice. Any financial numbers referenced here, or on any of our sites, are illustrative of concepts only and should not be considered average earnings, exact earnings, or promises for actual or future performance. Use caution and always consult your accountant, lawyer or professional advisor before acting on this or any information related to a lifestyle change or your business or finances. You alone are responsible and accountable for your decisions, actions and results in life, and by your registration here you agree not to attempt to hold us liable for your decisions, actions or results, at any time, under any circumstance.
This site is not a part of the Facebook website or Facebook Inc. Additionally, This site is NOT endorsed by Facebook in any way. FACEBOOK is a trademark of FACEBOOK, Inc.