Upgrade To Unlimited [EVERYTHING]
HUGE New Members Discount For The LURN Community ONLY!
Normally Access Is $3,500/yr, But Since You've Invested Bright Social Pro...
Upgrade To Unlimited For Just $997 Today!
⭐️ PLUS Get New DFY Social Posts Every Month, A FREE Ticket To The Social Boot Camp &
Unlock The NEW Automated Customer Invite Module!
Renews at $1,997/yr after 12 months. Downgrade any time.
YES! Upgrade To Unlimited!
IMPORTANT DISCLOSURE : By Opting in You Agree to a Reasonable Use that Prohibits abuse or sharing of this account. We reserve the right to make any changes to this Policy at any time.
+Unlock These Exclusive Fast Action Bonuses!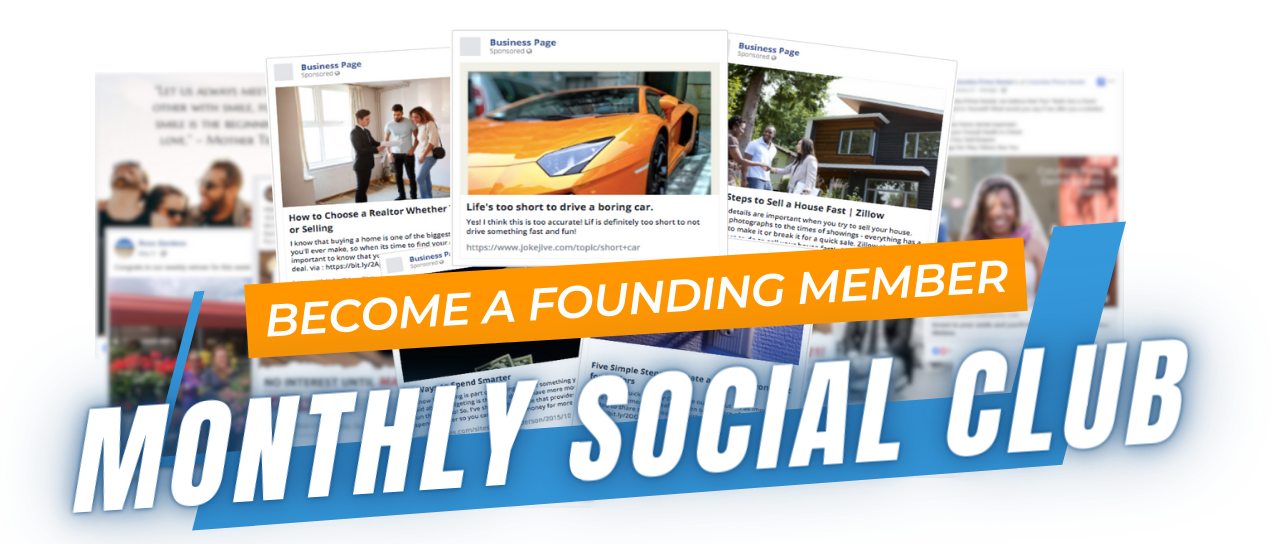 ---

Get 10 ADDITIONAL Platinum Bright Social Content Packs!
Unlock Done-For-You Social Media Content PacksThat Can Jumpstart Your Success In Lucrative Niches such as: Moving, Pest Control, Roofing, Carpet Cleaning, Cosmetic Surgery, Weight Loss, Residential Cleaning, Residential Contractor, Child Care & Gym / Fitness

✓ More Professionally Designed 90 Day Social Media Content Packages!

✓ Start With A Larger Content Library On Day One!

✓ Immediately Target 10 Lucrative Niches!
✓ DON'T WAIT WEEKS FOR YOUR FIRST DESIGNS!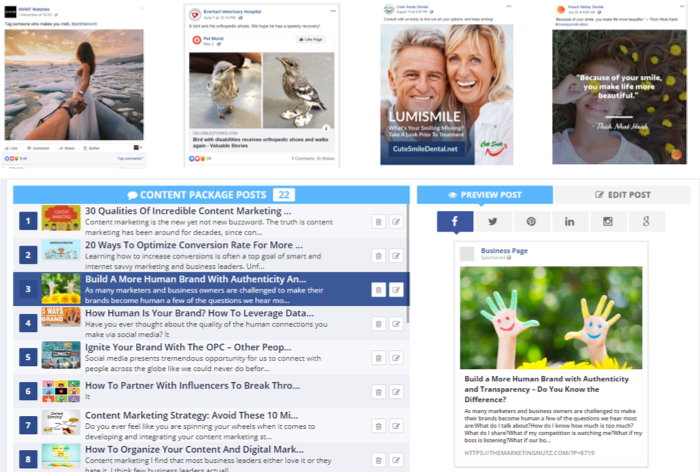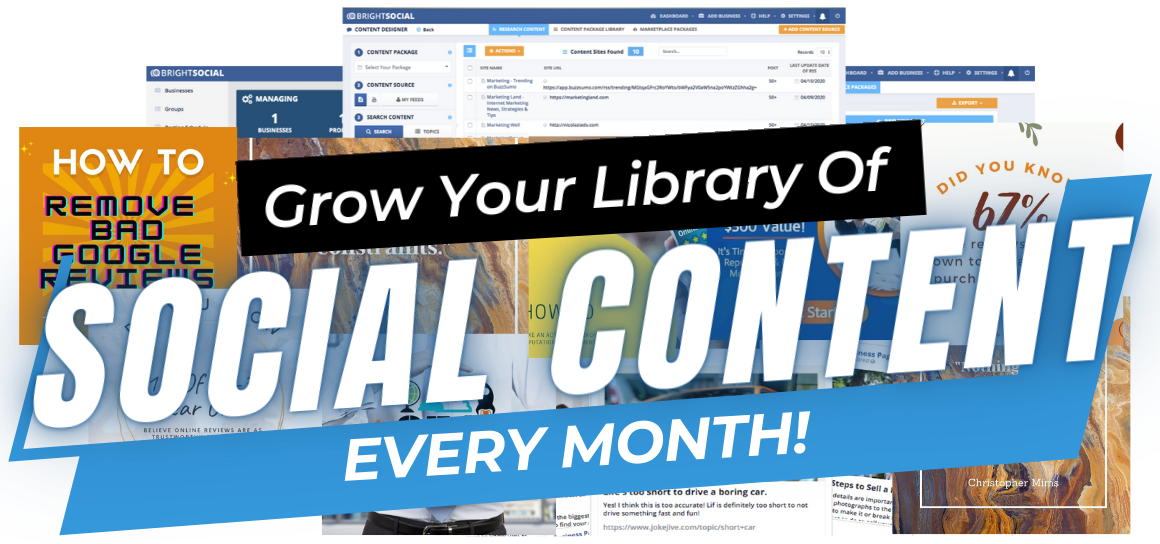 ✅

New Social Content Packs Every Month - Inside The Social Club our professional team will deliver 60 brand new social posts into your account every single month!
✅

Target Niches With Content Built With Our R.E.C.I.P.E - Unlike the Accelerator Pack, The Social Club features content for lucrative niches and your own agency that is professionally designed according to our secret Proprietary formula; meaning each month we'll help keep your content top-of-mind!
✅
720 New Social Posts A Year!
Save hours of work each month, because you can consider our team yours as they deliver fresh, new social media content that has been researched, professionally designed and proven to boost engagement!
Here's Why You Should Upgrade Your Account!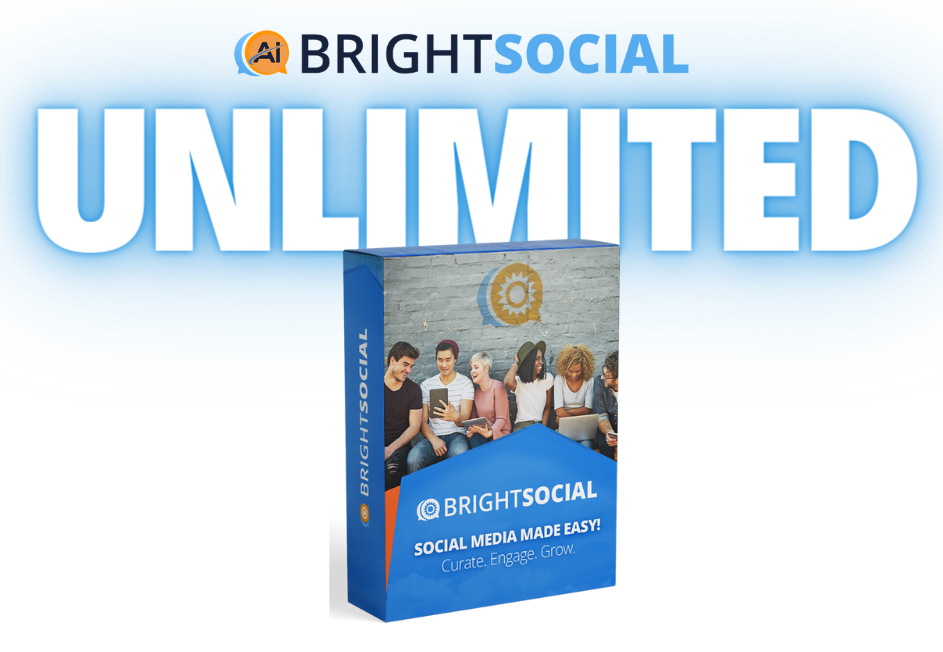 Bright Social UNLIMITED, is your chance to access the secret weapon to take your agency to the next level and...

🔥 Maximize your efforts with UNLIMITED AI Content Packages & Reports!

🔥 Target more lucrative niches with UNLIMITED Social Profiles

🔥 Get The Power To Create UNLIMITED Residual Income For Your Agency!

➡️ And that's just the beginning of what Bright Social UNLIMITED can do for you!
Get A FREE TICKET TO The LIVE Social Boot Camp!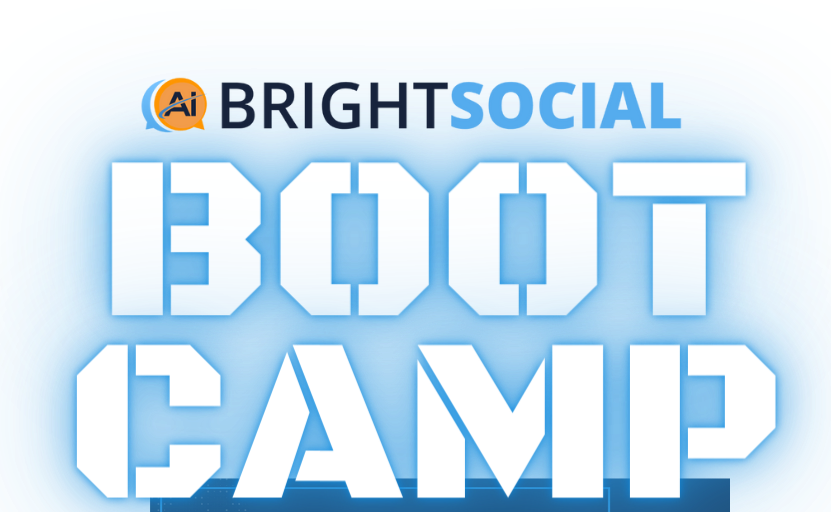 Join us LIVE for 3 days where you'll learn everything you need to know to find high-profit clients, fulfill in minutes, upsell your clients to even higher profits, and exceed your customer's expectations!

Plus, you'll have access to all the powerful resources to help you as you grow your Social Media Marketing Agency Including...

✅ LIVE Q&A From a Social Media Marketing Expert!

✅ In-Depth Done-With-You Over The Shoulder Training For 3 DAYS!

✅ Receive Access To On-Demand Training Recordings!

✅ Includes Exclusive Resources & Training Materials!

✅ Walkaway With Your Social Agency Setup & The Confidence You've ALWAYS WANTED With Social Media Marketing!

➡️ Ticket Details Delivered Via Email!
🔓 The NEW Automated Customer Invite Module!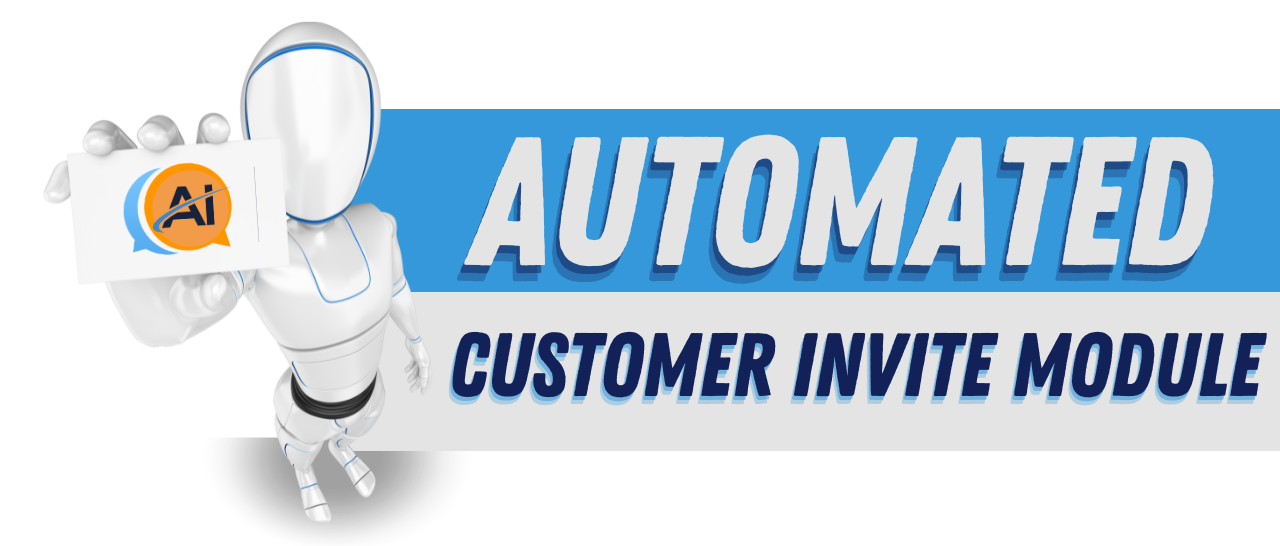 Introducing Our Automated Invite Module: Delivering Effortless Content Offers!
Let our automation handle the heavy lifting for your agency with:

✅ Seamless Content Delivery: Our automated invite module streamlines the process. When users opt in for free content, their details are captured and seamlessly registered in Bright Social.

✅ Personalized Invitations: Say good-bye to manual outreach. Our Module sends out personalized email campaigns, inviting users to create their own Bright Social user accounts where their opted-in content awaits.
✅ Instant Mini-Bright Social Experience: Users get access to a mini version of Bright Social, specifically tailored to the content they've chosen. No content creation required on your part; it's all set up and ready to go.

✅ Efficiency and Approval: Once users engage with the content, you can easily approve it for posting. Our module ensures that the content is aligned with your brand and messaging before it goes live.

✅ Email Sequences On-Demand: Tailor email sequences to match your brand's voice and style to notify your prospects when their content is available!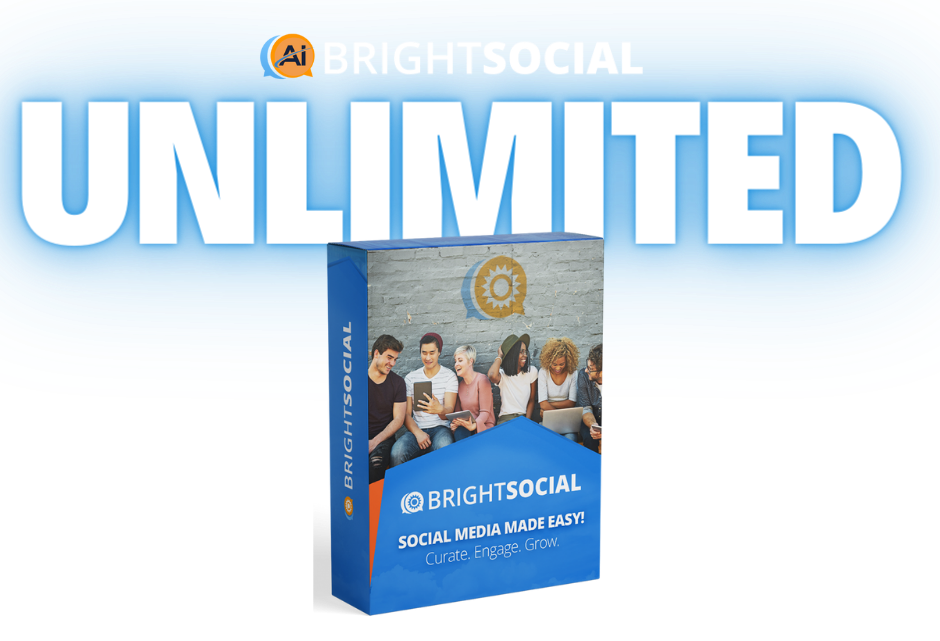 This is your Exclusive One Time Offer...
Get Bright Social Unlimited
⭐️ PLUS Get A FREE Ticket To The Social Boot Camp &
Unlock The NEW Automated Customer Invite Module!
YES! I Want To Unlock UNLIMITED For Just $997 Today!
No Thanks, I Don't Want To Upgrade.
Strategic Marketer can not and does not make any guarantees about your ability to get results or earn any money with our ideas, information, tools, or strategies.
Nothing on this page, any of our websites, or any of our content or curriculum is a promise or guarantee of results or future earnings, and we do not offer any legal, medical, tax or other professional advice. Any financial numbers referenced here, or on any of our sites, are illustrative of concepts only and should not be considered average earnings, exact earnings, or promises for actual or future performance. Use caution and always consult your accountant, lawyer or professional advisor before acting on this or any information related to a lifestyle change or your business or finances. You alone are responsible and accountable for your decisions, actions and results in life, and by your registration here you agree not to attempt to hold us liable for your decisions, actions or results, at any time, under any circumstance.
This site is not a part of the Facebook website or Facebook Inc. Additionally, This site is NOT endorsed by Facebook in any way. FACEBOOK is a trademark of FACEBOOK, Inc.